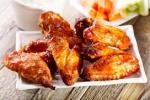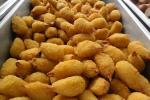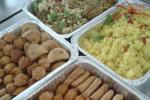 RM 630 for 25 pax | RM 750 for 30 pax | RM8 75 for 35 pax
RM 1000 for 40 pax | RM 1125 for 45 pax
Delivery charges RM40 for KL & PJ areas (Within 25km)
No buffet counter will be provided for Small party I & II
Optional to order red egg or Ang Ku at RM1.00 each
Free: Disposable plates, cups, forks & spoons according to number of pax ordered.
Nyoyah Curry Chicken Potatos
Fried Mee Hun
Yong Chow Fried Rice
Roast Chicken Wings
Fried Crab Claw
Cocktail Sausages
Fried Shrimp Meat Ball
Mix Fried Vegetables
Mini Cup Cakes
Mini Fruit Tarts
F & N Orange Cordial
娘惹加喱鸡
炒米粉
杨洲炒饭
烧鸡翅膀
炸蟹钳
炸香肠
炸虾肉丸
豆根上斋
迷你蛋糕
迷你果塔
冷橙水
---
This is an automatically generated default main template - please do not edit.
Please note: the main template does not contain any fields.
---